Juggle Fit Review & *Giveaway*
Juggle Fit
is a fun way to burn calories. I always had toned arms since I played sports growing up. As an adult, I went through an academy for law enforcement and still my arms were toned. However, recently I had noticed that my arms weren't as toned as they used to be, and I hated the way my arms looked in tank tops.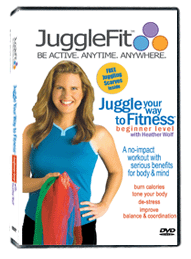 Photo taken from JuggleFit website. No copyright infringement intended, for demonstrative purposes only.
When I first tried Juggle Fit I couldn't believe how fun it was. I am not the best at exercising, as I get bored easily. I need something fun to keep my attention. I really enjoyed this workout, and could notice a diffence in my arms quite quickly. I got results fast, and you can too.
One lucky reader is going to winn a Juggle Fit DVD of their own, with free scarves.
I did not receive any financial compensation for this review. I did, however, receive free product for the purpose of this review. All opinions are mine.