Voloom For Your Hair!
We all have different hair types, styles and desires. If you are like me, than you like volume! I guess I am a stereotypical "jersey girl" when it comes to wanting my hair to have volume. That being said, I have been using the Voloom and I love it! It gives me the volume that I need and it's super easy to style my hair.
The best part is, it doesn't matter HOW you style your hair! You can add volume to your already styled hair with this, perfect for day old hair! All you do is clamp and release it on the hair close to your scalp and instant volume!
It works by having alternating platforms with beveled edges that bend your hair gently. So it isn't super harsh on your hair, and let's face it ladies, we put our hair through enough already :) That's why I love that it is so gentle on your hair.
As I said, it's super easy to use, just follow these simple steps:
-Style your hair as you normally would
-Part your hair in a section (taking the top layer of hair and putting it to the side, you can clip it in place with the the clip that comes with the Voloom)
-Take the section underneath the top layer and clamp that hair
-You can repeat down the length of your hair to your chin if you like, depending on the volume that you want.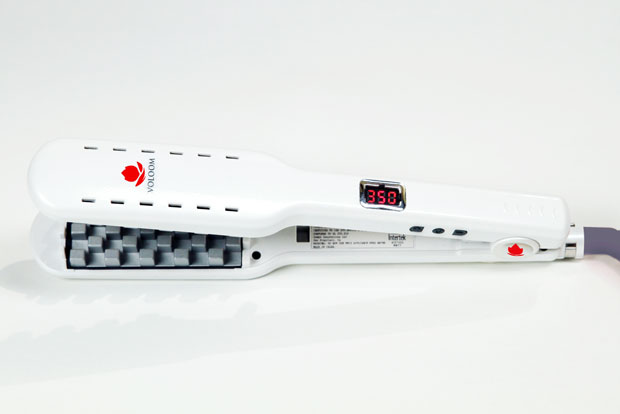 This did not damage my hair at all! I love to wear my hair up in a messy bun or ponytail, but I like to have volume at the top of my head, which is great for me that Voloom provides just that!
This is an amazing gift this Holiday Season, plus there is a one year warranty with the product so you can rest assured that you are making a smart purchase!
Here are my before and afters, going from flat and boring, to stylish and night on the town:
This blog has affiliate links and sponsored articles. Check out my disclosure policy for more details.