Rise And Grind Book Review
This blog has affiliate links and sponsored articles. Check out my disclosure policy for more details.
If you are a fan of the hit show Shark Tank, than you probably know who Daymond John is and you're familiar with his work. Recently, I was sent a copy of his book "Rise And Grind" to review, so I wanted to share it with you.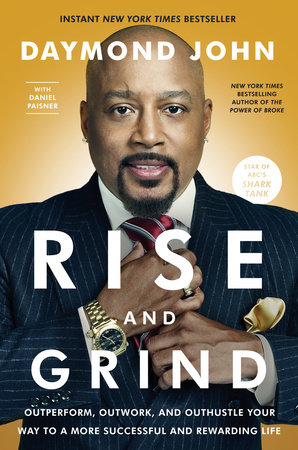 A little about the book:
"

Daymond John knows what it means to push yourself hard--and he also knows how spectacularly a killer work ethic can pay off. As a young man, he founded a modest line of clothing on a $40 budget by hand-sewing hats between his shifts at Red Lobster. Today, his brand FUBU has over $6 billion in sales.
Convenient though it might be to believe that you can shortcut your way to the top, says John, the truth is that if you want to get and stay ahead, you need to put in the work. You need to out-think, out-hustle, and out-perform everyone around you. You've got to
rise and grind
every day.
In the anticipated follow-up to the bestselling
The Power of Broke
, Daymond takes an up close look at the hard-charging routines and winning secrets of individuals who have
risen
to the challenges in their lives and
grinded
their way to the very tops of their fields. Along the way, he also reveals how grit and persistence both helped him overcome the obstacles he has faced in life and ultimately fueled his success."
If you are a fan of his, than it's worth reading. To show support for somebody that you like, of course, as well as to collect something. It can inspire you if he is somebody that you look up to.